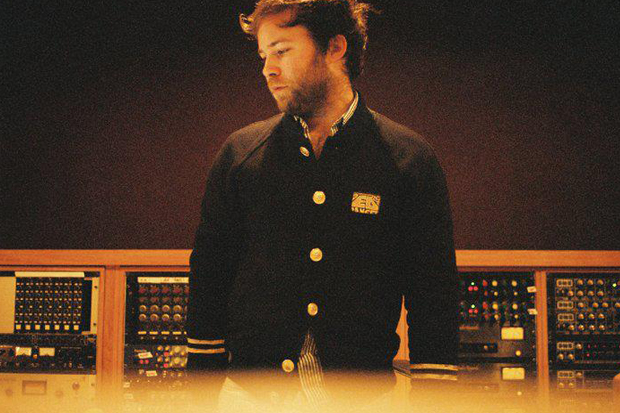 Our friend Bertrand de Langeron is a man of many talents. Better known by his pseudonym SO-ME; he is the man behind many music videos and designs for the Ed Banger/Cool Cats crew. You might have seen him drawing along to a Busy Pictionary show or DJing the world over. A self-confessed party animal with his partner in crime DVNO and buddies JUSTICE, he lives a highly enviable lifestyle partying the world over and working on projects that allow him to nurture the fun side of his brain. We agree that sometimes you get your best ideas while hungover. So really it seems like he has a good thing going!
Karl Henkell: What have you been up to lately? 
Bertrand de Langeron: I've been listening to "What Have You Done For Me Lately?" [by Janet Jackson], directing videos and doing graphics.
KH: Do you spend more time in Paris or abroad?
BL: I'd say it's a good 50/50. Just enough so I'm always happy to be back in Paris.
KH: What's your favourite thing to do in Paris? 
BL: Most of my friends are here. That's what I miss the most abroad, so I'd say I like to hang out with them as much as I can. A lot of eating and drinking basically!
KH: Was the Justice 'Audio, Video, Disco' clip filmed in Paris?
BL: Yes. Well, not too far from it.
KH: What films are you working on at the moment?
BL: I'm working on various commercials and perhaps a new music video. But I consider it bad luck to discuss projects beforehand. Sorry!
KH: I've heard that you take a lot of photos while travelling?
BL: I do indeed. I worked out that if I have to travel and can't spend as many white nights behind my computer screen creating images in my office like I used to, I might as well take photos. At least then I can keep doing it in another form.
KH: What camera do you like to use most? 
BL: I use various cameras; Fuji, Contax, Ricoh…and mostly film.
KH: Do you develop rolls straight away or do you have a box somewhere with loads of film?
BL: No, I do develop them quite quickly after I shoot them. Or when I have about 6 or 8 of them already. I keep searching all the back of my bags and all of my coat pockets because I always feel like I've lost some rolls.
KH: I know what you mean. It always feels like one's missing. Do you have a use for photo prints or do you get them put straight to cd?
BL: I don't because they would take too much space. I can see the interest in prints, because it's nice to hold them and everything, but it's just for practical reasons that I don't. When I do get to printing some of them I make sure to get a better scan of the negative first. The basic scans are ok for web viewing, but they lack details and colors if you intend to print your pics. Wow, this interview is getting really boring isn't it? My bad.
KH: Let's talk more about your travels! What's your favourite place to visit around the world?
BL: I love Japan, and I'm looking forward to go back to Brazil.
KH: It seems like Japanese people love Westerners. Does Japan love you? Do people recognise you there? 
BL: Yeah all the time. There's a cult in Japan where people dress like me and gather in some sort of church where they tattoo my designs on their whole body. It eventually turns into orgies.
KH: No wonder you keep going back! You come from a background in Graphic Design but do all sorts of things. What do you like to do most? 
BL: What I like to do most is to not do only one thing. I love all these different things I do equally, it's pretty much all the same to me. I mean it's basically using the same part of my brain, that is to say the only one that's ever functioning. Nowadays it's making films that takes most of my time, but it's good because I'm in a learning process. I'm a lucky intern, right now.
KH: I like the idea that all things creative are just using one part of the brain. Has your brain always worked in that way or have you had to nurture that feeling? 
BL: I just learnt that fact from a test I did in school when I was like 6. There are actually 4 distinct zones of the brain. I can't remember exactly so pardon me if I'm not accurate as it was long time ago, but one was dedicated to drawing, one to logic, one to maths (which was apparently different than logic), and the last one to like organisation. I ended up with 99% of my brain being only developed on the drawing and logic sides. The poor 1% for the rest can explain a lot of what my life turned out to be between the ages of 6 years old and now.
KH: Do you trust your first instinct when it comes to design and film?
BL: I think I do. I'm happy to hear suggestions though if they are better than what I had in mind. Then what I trust is not my first instinct I guess.
KH: When do you get your best ideas?
BL: Hungover and in transportation. So, partying abroad is good for me, really!
KH: I have to agree that transportation is a good time for thinking. You're almost forced to in the best way possible. Do you get time to make music?
BL: I don't really, but actually I just did with a childhood friend of mine under the name "Video Village". We had done a few remixes already (MGMT, Breakbot) and we just did one for my mates Justice. The cover of the record which is of course designed by… ta-da : S2A.
KH: Mehdi [Pinson] mentioned that you two have been touring and DJing a lot together. Who's the bigger party animal? 
BL: Yeah he's my partner in crime. I'd say I'm the bigger party animal, but I don't want to brag.
KH: What happens on the road, stays on the road? 
BL: I have no idea what you're talking about!
- -
Clip for Justice 'Audio, Video, Disco' directed by SO-ME!
'MEET' is a series of interviews with friends of S2A where we catch up on their lives, their current projects, their creativity, inspiration and whatever else happens to be on their minds!