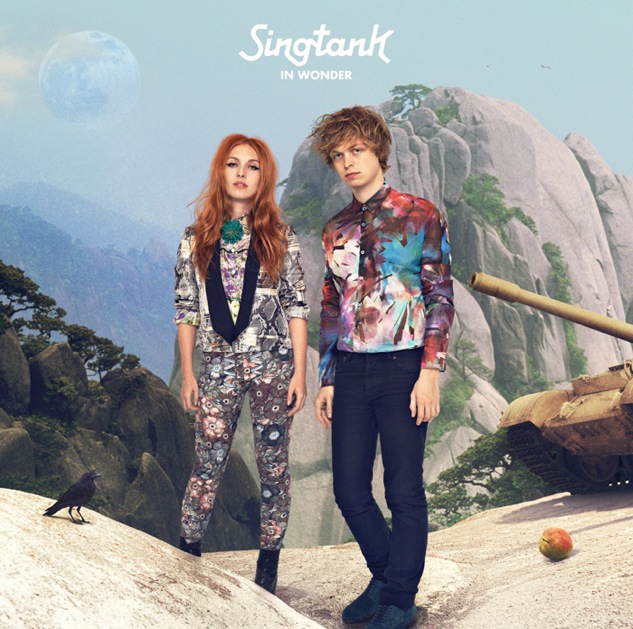 It's been a while since we caught up with Joséphine and Alexandre. Since the last time we spoke, their band Singtank released their debut album 'In Wonder' (cover image above), have put out a host of music videos and have been on the road playing their live show to audiences around Europe. They say a bands first release is important in setting the tone of what's to come. For Joséphine and her brother Alexandre the recording process has been a labour of love lasting over three years. They must have been getting some cabin fever because this summer sees them unleash their live show on audiences all around Europe!
Interview by Karl Henkell for Surface to Air
S2A: What was the idea behind the cover for your debut album 'In Wonder'?
Joséphine de la Baume: The album is called 'In Wonder' and we wanted the artwork to convey what this title means for us. Imaginary landscapes, living between dreams and reality. Andrew Woodhead (brilliant artistic director, who also happens to play bass in the band) came up with that idea of mixing different images to create that world we are both put into.
S2A: How has the lead up to the album felt?
Alexandre de la Baume: Really good and exciting. We've been working a lot on the live show, to turn it into a real experience rather than a simple showcase. A lot of promo; we're happy to fight for our album to do as well as possible so we can keep on making music forever!
S2A: Have some songs changed or developed over time?
AdlB: We had sixteen songs recorded for the album, but only eleven are in the final release. We started recording three years ago and we only wanted songs we were totally proud of to be part of the record. Sometimes it's hard to relate to songs that have been written a long time ago.
S2A: Tell me about the film clip you did with ABCDCD.
JdlB: It was an awesome experience to see the little sketches they had made turned into a gigantic set. We loved the way these three very gifted french directors perfectly understood the visual world we wanted: playful, imaginary, pop and yet somehow a bit dark.
Singtank 'The Party" music video directed by ABCDCD
S2A: What has been your favourite place to play recently?
JdlB: We played an NME gig at KOKO in Camden, London. It's an old theatre turned into a music venue. It's spectacular, fun, looks run down and magnificent.
S2A: How was your trip to Cannes? Did you bump into many famous faces?
AdlB: It was sunny when we were there, which was lucky this year apparently. I'm very bad with spotting celebrities, I always get mixed up and will realise at the end of a conversation that I am actually not talking to Mark Wahlberg, but to the event planner!
S2A: What are Singtank's summer plans?
JdlB: Playing Calvi On The Rocks and Roxy Pro in Biarritz. Life could be worse!
~
Singtank perform at Calvi On The Rocks this Tuesday 10th July and at the Roxy Pro in Biarritz on July 13th!
Check out our 'MEET' interview with Alexandre here.
Singtank's debut album 'In Wonder' available in France on iTunes and in all good record stores.
Keep up to date with Singtank via their website and facebook page.