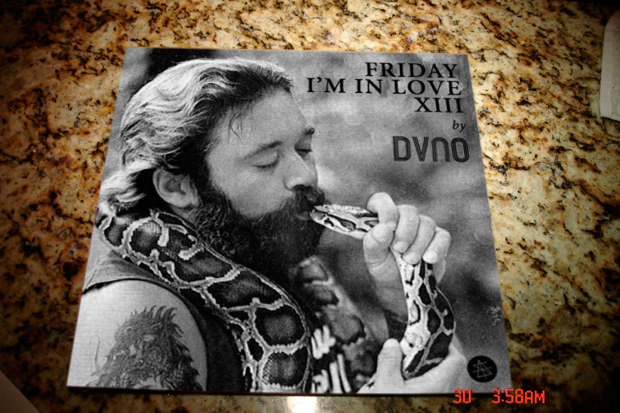 This isn't the first time Mehdi Pinson (a.k.a DVNO) has graced our blog. You may have missed our interview with him a while ago. He's pretty much on a non-stop tour of the world with friends Justice and as a general one-man party squad. Which we are of course very jealous of, but I mean, someone has to do it so we're glad it's Mehdi!
We asked Mehdi to share with us those extra special tracks that tug at his heart strings for Friday I'm In Love Part XIII. Get in the mood!
1. Otis Redding - That's How Strong My Love Is
2. Leon Russell – A Song For You
3. John Lennon – Mind Games
4. Vigon – I Will Never Turn My Back On You
5. The Beatles – I'm Looking Through You
6. Blood, Sweat & Tears – I Can't Quit Her
7. Roy Ayers – Everybody Loves The Sunshine
8. Chemise – She Can't Love You
9. Surface – Falling In love
10. Heatwave – Lay It On Me
11. Buckingham & Nicks – Frozen Love
12. O'Jays – For The Love Of Money
13. Hall & Oats – She's Gone
14. Joe Walsh – Made Your Mind Up
15. Electric Light Orchestra – I Need Her Love
16. Ben Lee – 8 Years Old
17. Ben Kweller – Falling
18. J. Mascis – Not Enough
19. Heavy D & Silk – Got Me Waiting (Remix)
20. Alan Braxe & Friends – In Love With You
21. Mandrill – Dance Of Love
22. Donald Byrd – Love Has Come Around
23. Jon Lucien – Would You Believe In Me
24. Rim & Kasa – Love Me For Real
25. Chris Rea – Josephine
26. Michael Jackson – Girlfriend
–
For more on DVNO check out his website!
–
Check out our previous "Friday I'm In Love" playlists below:
Friday I'm in Love by Pedro Winter "Busy P"