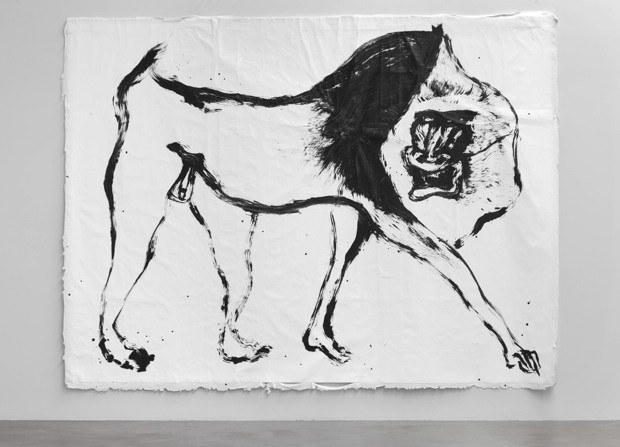 Abraham Cruzvillegas knows a thing or two about apes. Not just anyone can draw mandrills at the drop of a hat. Not only does he have an extensive knowledge of primates, but Abraham is a well accomplished artist whose career has spanned over two decades across diverse artistic projects.
Along with friend Dr Lakra and others, he began his career as a sculptor, writer and central participant in a new wave of conceptual art in Mexico City during the late 1980s. Since then Abraham has taught, lectured, given tutorials, co-ordinated seminars and workshops and has shown his work the world over. He has had notable residencies at the Tate Modern in London, the New Museum of Modern Art in New York and the DAAD Artist in Residency Program in Berlin to name a few. This year he is part of dOCUMENTA(13) in Kassel.
He is a well-travelled man and lived in Paris with his wife Alejandra for several years where he became friends with our own S2A Studio art director Alberto Cabrera. Our latest collaboration with Abraham is on an Artist Series t-shirt that he did for us. Check it out below – we told you he could draw a mandrill!
Interview by Alberto Cabrera for Surface to Air.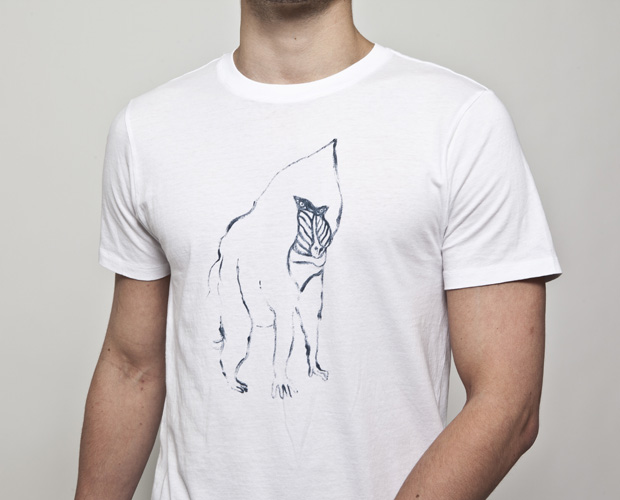 S2A x Abraham Cruzvillegas t-shirt
S2A: How did you start out in art?
Abraham Cruzvillegas: I started making drawings when I was a teenager. I liked very much political cartoons, comic strips and illustration for magazines and newspapers. In Mexico we call drawings in all these kinds of publications 'monitos'; so I was a 'monero', as they call us there. Mono could have two meanings: doll or ape. You can say 'gran mono' and there's no doubt you are talking about gorillas, orangutans, chimps and bonobos. But if you say 'el monito de la rosca' it's for sure that it's a little doll you get in a Christmas related cake as a prize. So, by then – in the mid eighties – I made some other drawings of apes, mandrills, and other primates in my spare time. But just for pleasure; for me.
S2A: In several of your projects you work in collaboration with other people. While you were in the Calder residency in Saché (France) you worked with many artisans of the region to recreate a club [the wooden kind]. In Scotland you produced a music album with different local bands based on your lyrics and you built a custom bicycle / sound-system with a local crafsman. You did a book of recollected images with Dr. Lakra and I guess there must be many other examples. Apart from the technical or production matters, why is it important for you to work with others?
AC: First of all, I like to learn. And when I discover something I like, or something I think is somehow important, I share it with my friends or with whoever could be there. Like when I make an exhibition, for me it's like making a report of my discoveries to unknown people who may like it or not. But it's there anyways to be shared. I like the idea of belonging to a community; you can be part of a club, a gang, a sect, but in my case it's more like a guild. Something not necessarily related to skills or mastership, but a community of ideas, a complicity in language, the language of art, as used or spoken in a personal discourse.
S2A: And where does a collaboration with a fashion brand like Surface to Air come in?
AC: When I lived in Paris, I experienced fashion (one of the most important issues of the city) through my wife Alejandra, who loves high heels and cool clothes. I like some designers myself, but I rarely wear fancy brands' stuff. But it was through my friend Beto Cabrera that I got a little bit closer to the business, because he has worked at S2A since 2005; the same year we arrived there. With him I shared lots of time celebrating, exchanging ideas, working and having fun. We used to hang out also with my beloved compadre Niklas Svennung at Le Café de La Pérle, site of Galliano's scandal. It appeared to me very normal to make a collaboration as I feel I like the idea of people wearing something as simple as a t-shirt made in a collaborative way. It's made in a very soft cloth with a slick silkscreen print; so it's nice, smooth and easy.
S2A: Talking about the primate you sent us for your Surface to Air printed t-shirt; I know you've been drawing monkeys for a longtime but lately you've been showing them as part of your most recent exhibitions. For example: the gorilla carved in the wall in Berlin (for your DAAD residency final project in 2011) and the broom painted paintings for Kurimanzutto gallery in Mexico City 2012. Why primates and monkeys?
AC: Genetically primates are the closest animals to us humans, so it's not eccentric to look at them through some kind of mirror. I love apes. I named all the works in my recent exhibition at Kurimanzutto gallery in Mexico city after the names of all my closest relatives and my family, including my beautiful wife portrayed as a pregnant bonobo. I think primates are a strong link of our development; they represent our most sincere and honest face. They are something in-between; they are a threshold.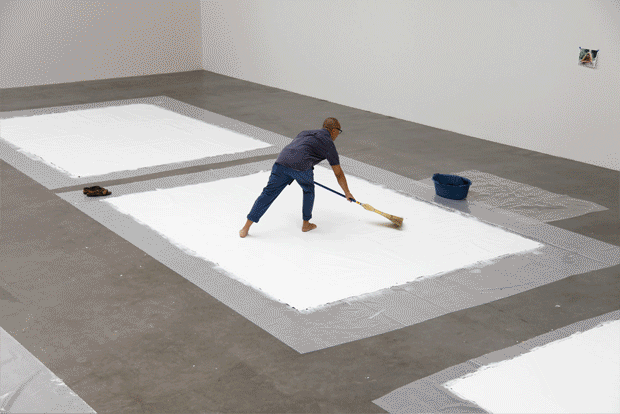 Making of: Nuestra imagen actual: Helena, 2012
S2A: You lived in France for some time; for you what are the best and worst things here?
AC: Paris is great. I love Paris, even when it's so bourgeois; so stiff sometimes. I don't mind the bad English pronunciation of French people, it compensates the bad fame they have about not tolerating non-French speaking people in France. I love the country side. I love the vide-gréniers and the marchés gourmands. I love the beauty they respect so much. I feel they just need some more sunny seasons and cold beer, because they already have wine and cheese.
S2A: Please tell us about your "Round de Sombra" publication for Harvard university and other future projects.
AC: Harvard University Press will publish an anthology of my essays, selected and edited by Dr Robin Greeley. I'll be part of some group shows here and there: Germany, Korea, the US, China. Next year I'll have a big show, displaying all the elements from the long term project called Autoconstrucción, at the Walker Art Center in Minneapolis. I'm preparing a new show for Paris next year, at Chantal Crousel's gallery. Ah… I'm also preparing a book for children!
S2A: Anything else you'd like to add?
AC: Yes, I have a question: why you didn't make the t-shirts for girls? Even XS size doesn't fit them so femininely…
S2A: We do like girls in oversized t-shirts!
~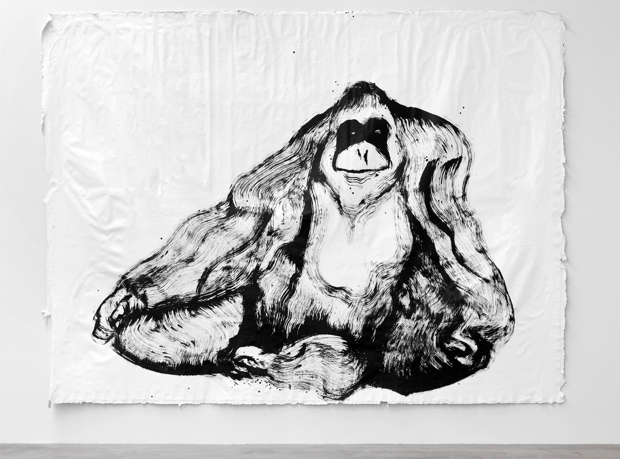 Nuestra imagen actual: Helena, 2012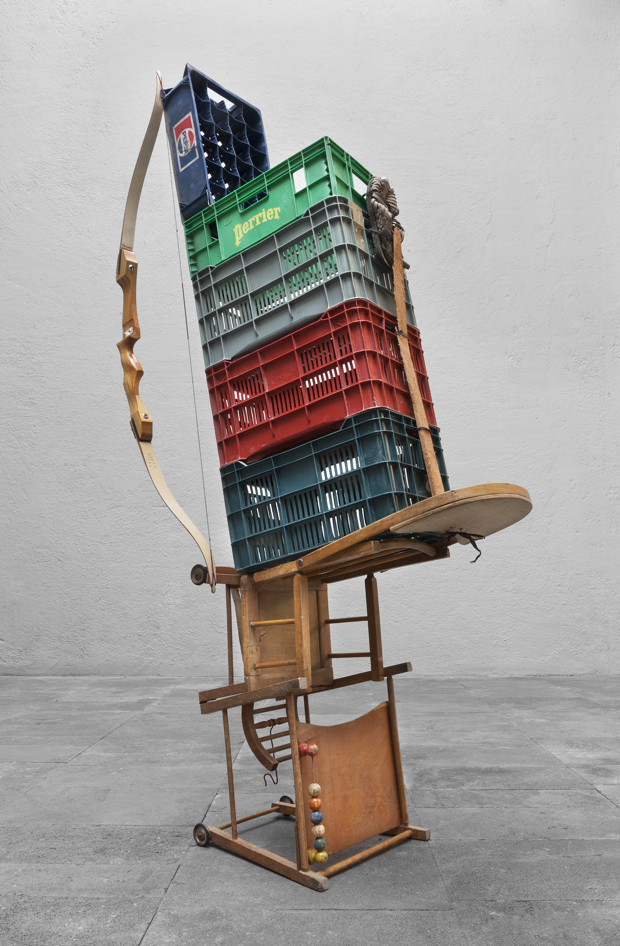 Self portrait as a childish junkie living at the corner of Orizaba and Zacatecas Streets just after WWII, 2012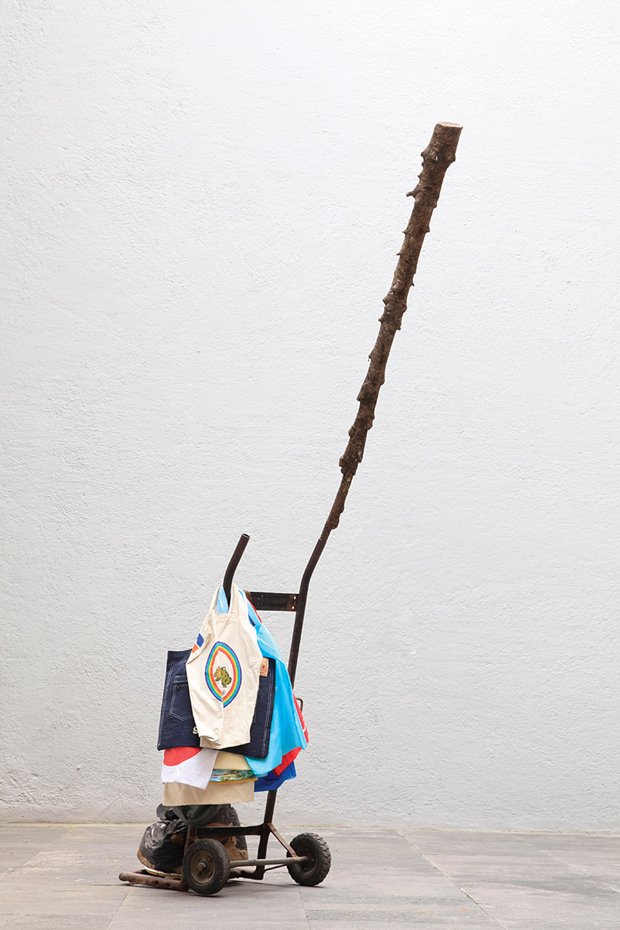 Indigent and indigenous self portrait pretending to be discrete at the Mall of America, 2012
Images courtesy of Galerie Kurimanzutto (Mexico City)
–
'MEET' is a series of interviews with friends of S2A where we catch up on their lives, their current projects, their creativity, inspiration and whatever else happens to be on their minds!