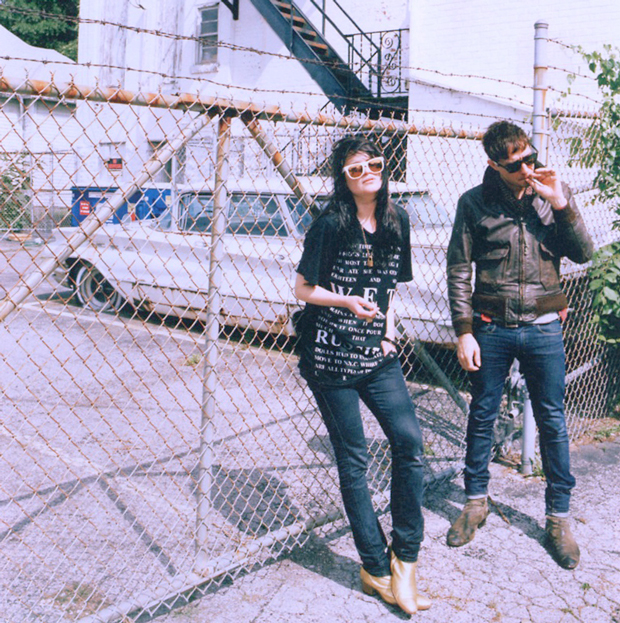 Last Friday we held a little cocktail party to celebrate the launch of "Dream & Drive", a book by photographer and good old friend Kenneth Capello, documenting 10 years of The Kills career, on and off stage. Whilst everybody was mingling and getting sippy sippy upstairs, we caught up with Kenneth, Jamie and Alison in the stockroom, nibbling on sushis and chatting about French 75s, GG Alin and friendship.
 Interview by Pauline Wormser for Surface to Air.
S2A: Lovely to see you all here. Does it feel familiar?
Jamie Hince: It does actually. Alison and I met Kenneth in the basement of the old Surface to Air store 10 years ago. We were shooting a film documenting our first tour. And the guy who was filming was friends with Jérémie from Surface to Air. There was a little set up in the basement and we were playing some songs, and we ran into Kenneth.
Kenneth Cappello: I was hanging out at the back. That's where I used to hang out everyday because I didn't speak French, I didn't know anyone in Paris. I had my sketchbook with me, I showed them my photos and they were like "we're playing downstairs you should come and hang out". So they played and I took some pictures.  And they invited me to their show. We hung out for a few hours in the basement, and talked shit.
Jamie: Kenneth happened to be as passionate about photography that we were about music, so the conversation and the socialising turned into a photo shoot without even realizing it. I love that kind of thing. You know, you're always in trouble when someone says "this is what I do, can I have some of your time to do it?". It's always much, much better if you just meet somebody and you don't even realise it's happening. You've suddenly made music and you suddenly got photographed, and you suddenly got a book.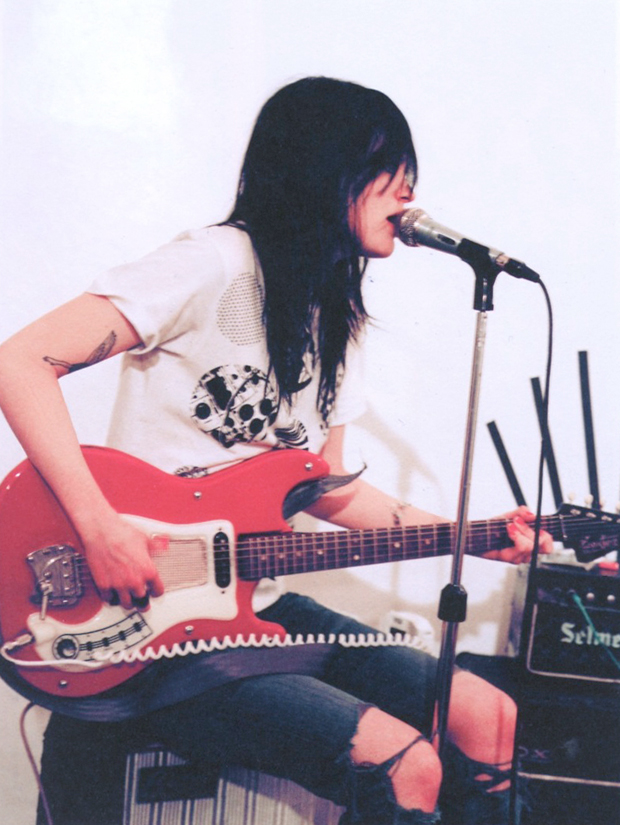 Alison playing in the basement of our first store in Paris, 2002. Photograph by Kenneth Cappello.
S2A: We are specialists of that here, "natural collaborations"! Could you foresee what was going to happen from then on?
Jamie: No, but I always remember this journey, one of the most important journeys in my life – which was from Heathrow Airport back to Gypsy Hill, when I picked Alison up. And we talked non-stop about what we wanted to do with this band and how we wanted things to go. And it was the first time we were really happy, and comfortable, and sure that it was just going to be just the two of us. And we talked about how we didn't want a bass player or a drummer or a keyboard player. We wanted to expand our little gang with photographers, writers, and we wanted to meet people like that, to come away with us. We felt like this was much more important than having a keyboard player.
S2A: You pay a lot of attention to the visual side of your work, album covers and videos; you have a highly identifiable aesthetic.
Jamie: Yes you have to these days. Especially when we started in 2002, and there were 100 000 new magazines all over the place. Million bands. And it was like this machine gun approach to press. Get in the paper! Get as much press as you can get. So people always laugh when we say that, because it sounds like a joke… But at least for the first 2 albums, we spent more time doing the album artwork than we did recording the record. I would say probably three times as long.
S2A: At Surface to Air we do a lot of artwork for Justice, Chromeo… What is your process for creating an album cover?
Alison: Naming a record is not easy to do. You're really lucky if you come out with a good name while you're recording it. That merely happens, it's usually afterwards, when you're done, and it's much harder. And that image kind of folds around that name in a way… at least in your mind.
Jamie: I think the most important, is being a good editor. The three of us are good editors. We know what's not good. We might take as a little bit of a long time to make something really good. But along the way we're absolutely clear about what's not good. We can stumble across some quite good things from that, you know!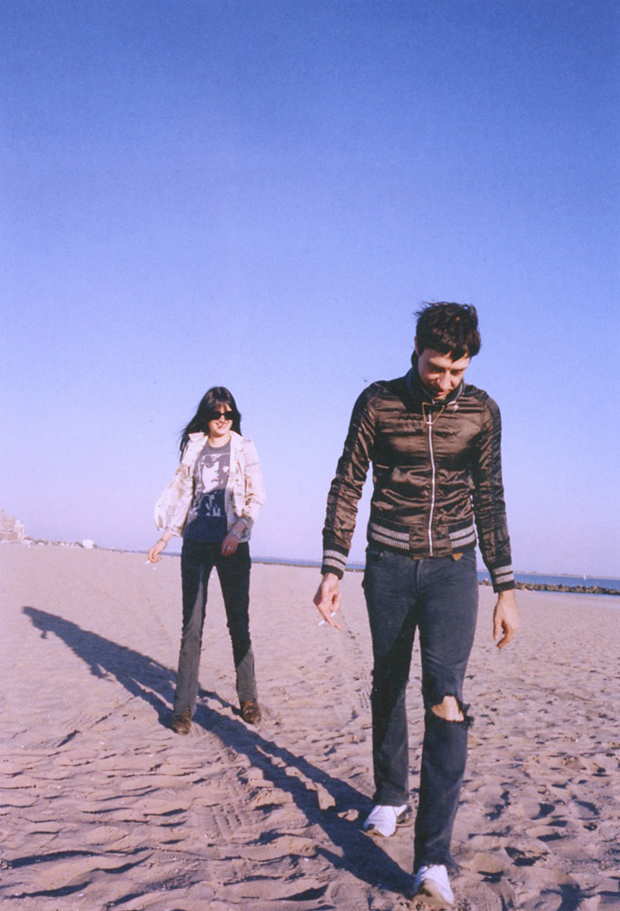 Alison & Jamie by Kenneth Cappello
S2A: I read somewhere that you used to choose the records you use to buy by their cover?
Jamie: I used to live in a little town. No band came even near to my town. I lived 80 miles away from London. When I was 12 or 13 I would get super excited, hormonal about rock'n'roll. I would hitchhike into town, go to the record shop and look through the records, in absolute awe of all of this. You're 13 years old, you pick up a GG Alin record, what the fuck is going on with that?! You look at it, you've got the fear, you're excited because you want to – and you can be – part of it. All you have to do is pay £5,99. I don't think it's the same now.
S2A: What's your most valuable find?
"Witch Hunt" by The Mob. "Witch Hunt" was the A-side, "Shuffling Souls" was the B-side. I have multiple copies of it now.
S2A: Do you still go record shopping?
Absolutely, I was record shopping the other day with Bobby Gillespie on Portobello Road. Buying records is something I really love, especially on tour. When I go and disappear for a few hours and come back with having spent way too much money on bag of 7-inches. I have a little jukebox
S2A: What does Paris represent for you?
I have had some incredible times here. In fact we've come to the point where many times, we thought about buying a place here, but then, right when it comes close to picking, we get reminded that the beauty of this place is that it's not home. If we had a place we wouldn't be getting into the scrapes we're getting into.  I think it's one of the few cities that really changes through the seasons and it's amazing. You can't say the same for many places. New York in the summer AND in the winter is terrible!
S2A: Is London home?
Alison: To be fair, I don't really live anywhere, we are travelling constantly. It's an endless shuffle through airports. I live out of a suitcase so in a way I can never get sick of London, I never really get sick of anywhere, I don't really stay long enough to feel that way.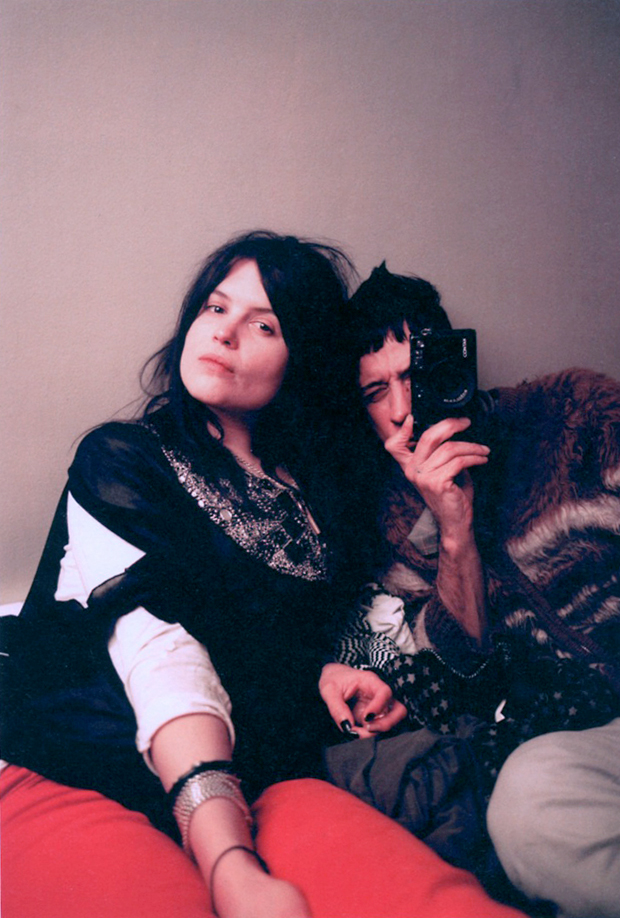 Alison & Jamie by Kenneth Cappello
S2A: It's been 10 years of recording, touring, huge success…Do you ever miss your struggling early days?
Alison: I feel like today is our struggling days! There's always something, it's never an easy cruise along the ride.
Jamie: It's a strange trick and a weird paradox because of course you miss it. Nostalgia is strange thing. It makes things shinier, prettier, more beautiful. In fact the things that you remember as an amazing time that will flash in front of you when you're on your death bed, at the time actually seemed pretty miserable. Often, they were really bad times. You listen to other people's stories "We were in the middle of nowhere, the car broke down…". These are the stories that will give people life so it's a kind of a trick. But I yearn for those days, I'm nostalgic of that romance, you'll never get it back. But that's the point of it, that's why it's so important, because you'll never get it back. The further away you move from it, the more important it is and that's life.
S2A: How would you describe the evolution of your style?
Jamie: I'm not really good at that, you'd have to ask other people to describe that. I've got 3 choices really. I could break it down to "Should I wear a jacket, a suit jacket or a leather jacket".
Alison: To me it has to be practical. I sweat a lot and I move around a lot. It's a combination, almost rock'n'roll sportswear. You gotta find something that you can destroy onstage and not make you think.
All pictures from "Dream & Drive" by Kenneth Cappello. Available now.
–
'MEET' is a series of interviews with friends of S2A where we catch up on their lives, their current projects, their creativity, inspiration and whatever else happens to be on their minds!