We've interviewed our long-time friend and other half of The Kills, Alison Mosshart to discuss our latest collab, what makes a great leather jacket, the relationship – or lack of – between fashion and music. True to her inimitable style she gave raw, honest and witty answers. We haven't changed a comma.
Interview by Pauline Wormser.
S2A: Hey Alison, where are you, what are you up to?
Alison Mosshart: I'm in Nashville at the moment. I've been working on music for a new Kills record and driving around the country, experiencing the highway from behind the wheel again, instead from the back of the tour bus. I've been painting a lot too, which I've missed. It's been great getting back into it.
S2A: Can you tell us about the genesis of this collaboration? How did you get involved with Surface to Air? I imagine you being courted by quite a few fashion brands, why did you choose to collaborate with S2A?
Alison Mosshart: Many years ago I met (Surface to Air founder) Jérémie Rozan. The Kills were fresh out of the gate. We'd only been playing for a few years and we were working on filming some footage to add to a bunch of footage we'd shot ourselves on our first tour, which was essentially a 3 month joy ride around America. We were in Paris and Jérémie offered us the space below his Surface to Air shop to film in. A basement with white stone walls. We went down there and set up and filmed. That was in 2004 maybe… We've known one another since then. I can't remember if I've been courted by any fashion brands or not. So had I been asked, I wouldn't have responded and would have forgotten immediately. It's not about the task, but the idea. As soon as the ideas come, then it's a great thing. That's when you design or write or sing or paint something or photograph something. But doing so on demand, is really just work, and I don't think it's my best work. I wait for the idea and then I can't stop myself from seeing it through. So, when Surface to Air asked, I went away for a second, thought about what I wanted to wear that I couldn't find out there and the ideas came immediately. I had too many ideas. I guess I was ready. The timing felt right and the collaboration felt right. Surface to Air had been there since the beginning of The Kills, we share similar views. I like the company. I like how they are involved in art, music, fashion and film. That appeals to me. It's not just a clothing line, but more of an art collective in some way in my mind. So I felt at home to work under that roof. I guess the stars were aligned. Some collaborations make sense and feel right, most do not. This has been a natural and easy collaboration, which is ideal.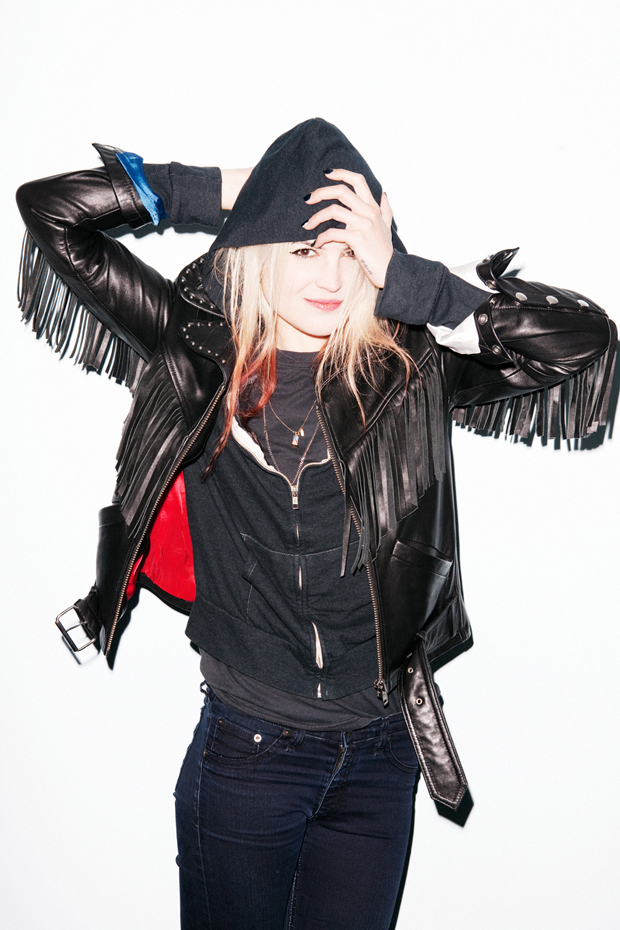 Alison Mosshart wearing the Alison Leather Jacket available here
S2A: Have you ever wanted to design clothes? Is it your first venture?
Alison Mosshart: Honestly, designing has never been on my agenda. Like I said, I wait until my interest is sparked. I've always felt clothing is a very personal thing, that the cognizance behind making those choices is private. Style is unique. It's something cultivated alone. I've never thought about making clothing for anyone else. Style and taste, are selfish, not in a negative sense… but really, I've never aspired to look like anyone else. I've never been into the uniform. That makes me uncomfortable, but that's just me. It's very different for a lot of people. It depends on the story and the message you're trying to send. Anyway, yes, this is my first venture. And I have to admit, this was a selfish act too. I wanted to wear this jacket. No one was making a leather jacket with all the things I wanted on it. It didn't exist to my knowledge. I wonder if anyone else will like it. I wonder how people will wear it? It's one of those pieces I think could be worn 100 different ways, just depending on your posture and your habits. That's what I love about it. It can be redefined.
S2A: What was the design process? Would you compare it to song writing?
Alison Mosshart: I drew pictures. I drew what I wanted from every angle on shitty hotel stationary. I thought about where I'd wear it. I thought about my muscle car and the great American road trip. I thought about the 70's and the Hells Angels and Lou Reed and Evel Knievel and speed and mystery and flair and performance and wild gestures and superheroes and outlaws. I just drew exactly what I wanted and the process began there. Song writing is different, but maybe not by much.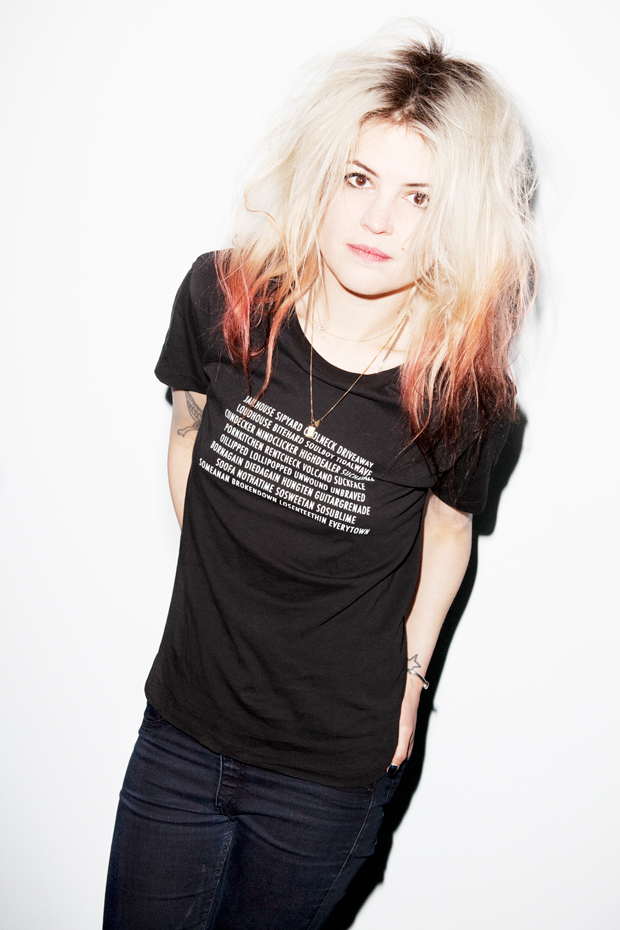 Alison Mosshart wearing the Alison Tee available here
S2A: The jacket you designed feels like one of these items that become part of your life. The kind you'll wear until it rips apart, and if someone borrows it from you, it feels really weird. What was the inspiration behind the jacket?
Alison Mosshart: Since I've had the jacket, I've asked other people to try it on and it's been thrilling to me. Because they look great, but everyone looks entirely different in it. It depends on who you are, not your name, but your attitude, your posture, your human moves. It's cool to see different personalities under that leather. Some personalities are bigger than others and the jacket looks like it's always been there. On other people, the jacket is bigger, envelopes them, inspires some other way of being. That's just as cool and interesting to see. People are excited by it. I get a lot of comments. I get asked a lot where I got it. A lot. It's hard to explain the inspiration for it, because I think there were a lot of different things. But it was just one idea. A drawing, a feeling, I knew exactly what I wanted. Hoping other people will like it too, is a thought that comes much much later. I have to love it first and I do.
S2A: Rock'n'roll and fashion have always been closely linked, one doesn't really go without the other. How important is fashion to you? In your opinion, which band absolutely mastered style and music?
Alison Mosshart: I don't really know. Like I said, it's personal. It's private. It's about the individual. there are lot of cool looking musicians out there. A whole band, that's a stretch. Usually creative people don't exactly look like one another. You want uniqueness always, with music, with art and with style. David Bowie has a thing. Keith Richards has a thing. Neil Young has thing. Johnny Cash had a thing. Don Van Vliet had a thing. Jim Morrison, Elvis, had a thing. Nick Cave has a thing. Iggy Pop, Joan Jett, Jimmy Paige have a thing. Marilyn Manson, Lemmy have a thing. Kurt Cobain had a thing, Patti Smith, Prince, Jennifer Herrema have a thing. Kim Gordon, Tom Waits, have a thing… I mean, I could go through my record collection and pick people out of music that are vastly unique, and can't be mistaken for anyone else. I think it has more to do with personality and that personality being so unique that it pours out in visuals. The inside gets outside and you see it, and it's astounding and it's beautiful, and it can't be captured or copied. Fashion follows music. I don't think they go together hand and hand. I think fashion is always running to catch up if they're after the musician.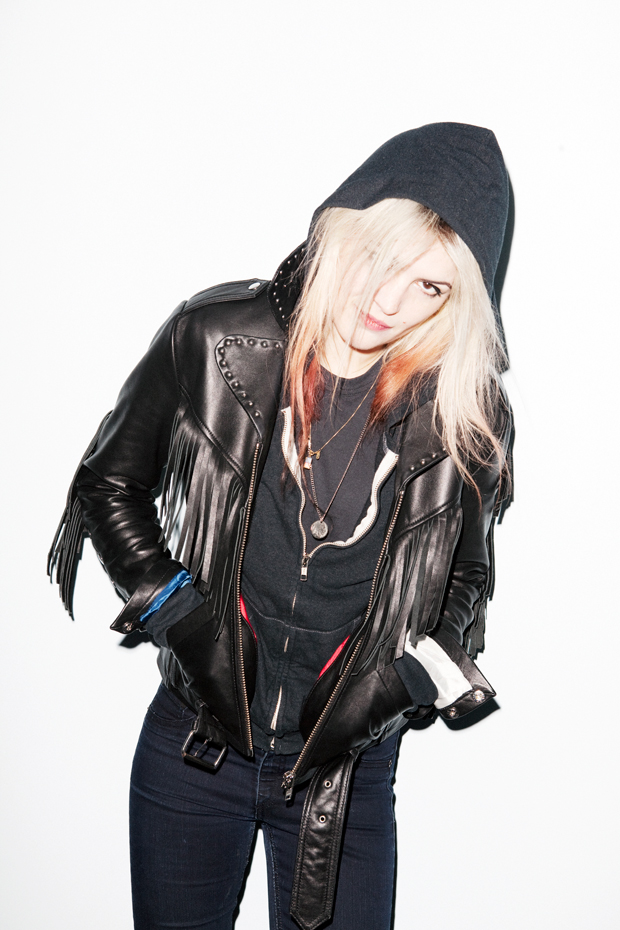 Alison Mosshart wearing the Alison Leather Jacket available here
S2A: Who do you imagine wearing the clothes you designed?
Alison Mosshart: Anyone who loves them.
Alison Mosshart x Surface to Air collaboartion exclusively available now at:
Surface to Air Grenelle 22 rue de Grenelle, Paris 7.
Surface to Air  Mercer 27, Mercer Street, New-York.
and on www.surfacetoair.com